In addition to beautiful original artwork by our accomplished artists, Hagan Fine Art offers Fine Art Restoration Services by artist and specialist Gloria Mani, a second generation master artist, art-restorer with 40 years experience in art conservation and restoration of antique oil paintings and antique frames.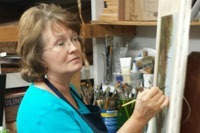 Cleaning oil paintings: removing surface grime and or varnish removal.
Repairing tears, rips, flaking paint, lining, touch-up, varnishing.
Antique frame restoration: cleaning, replacing missing areas, touch-up to match original finish or re-leaf complete frame.
(Gloria only restores oil paintings on canvas, gold leaf, and frames. She does not work with pieces on paper)
If you have a painting or frame that needs professional restoration, please email
Please email the following information:
- Overall image of the face of the piece or frame

- Overall image of the back of the piece or frame

- Detail images of issue areas of the piece or frame

- Dimensions of piece or frame
- If known: artist name, year created, medium, provenance