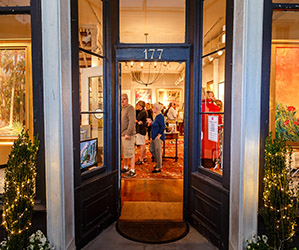 Rent the Gallery & Hidden Art Courtyard at 177 King Street for your special event!
If you have a small gathering of friends and loved ones for your special event,
surround your guests with beautiful artwork in Hagan Fine Art's gallery and courtyard.
The patio at 177 King Street is a charming
and intimate space, adjacent to Hagan Fine Art Gallery's interior.
The gallery space is filled with beautiful original oil paintings and classically stylish decor. If the weather is good, a wedding on the patio is lovely.
It's perfect for a small wedding or cocktail affair any time of the year.
It's also a great place for a small corporate cocktail party or meeting.
The Specifics: Capacity: 20 people maximum. There is room for a small one or two piece musical group. For your wedding, the space will accommodate a small wedding cake and champagne toast.
We have two tables, one long rectangle and one round outside, for serving.
Catering is to be provided by your planner and will need to be reviewed in advance of contract, so that we are able to accommodate your plan. Your planner is responsible for linens, food, napkins, table wear, glasses.., Rental Fees and Information:
Rental times are Monday thru Sunday after gallery business hours
(Load is no earlier than 5pm when the gallery is closed and event concludes no later than 8pm) Small: One hour event with 10 or less people total - $1500
Large: Two to three hour maximum with no more than 20 people total - $2500
*Please add $150 for holiday weekend bookings
Rental fee due at time of booking. We accept Visa, Master Card, American Express, Discover and checks.
For more information on having your special event at Hagan Fine Art and The Garden at
177 King Street please call or email:
Allison Hull – allison@haganfineart.com, 843-901-8124
Karen Hewitt Hagan – Karen@HaganFineArt.com, 843-754-0494