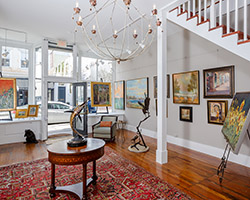 In our gallery or your home, let us help you find the perfect pieces
Hagan Fine Art is open seven days a week to provide plenty of time
and opportunity for our clients and gallery visitors to peruse the
beautiful original works of over twenty-five artists.
In addition to our regular business hours, we also offer scheduling
for you to privately view selected works - in your home or our gallery.
Let us help you find the perfect pieces for your home, and bring them to you
to "try out" in the intended spot.
For more information, or to schedule an appointment, please
email us at info@haganfineart.com or call 843-901-8124.